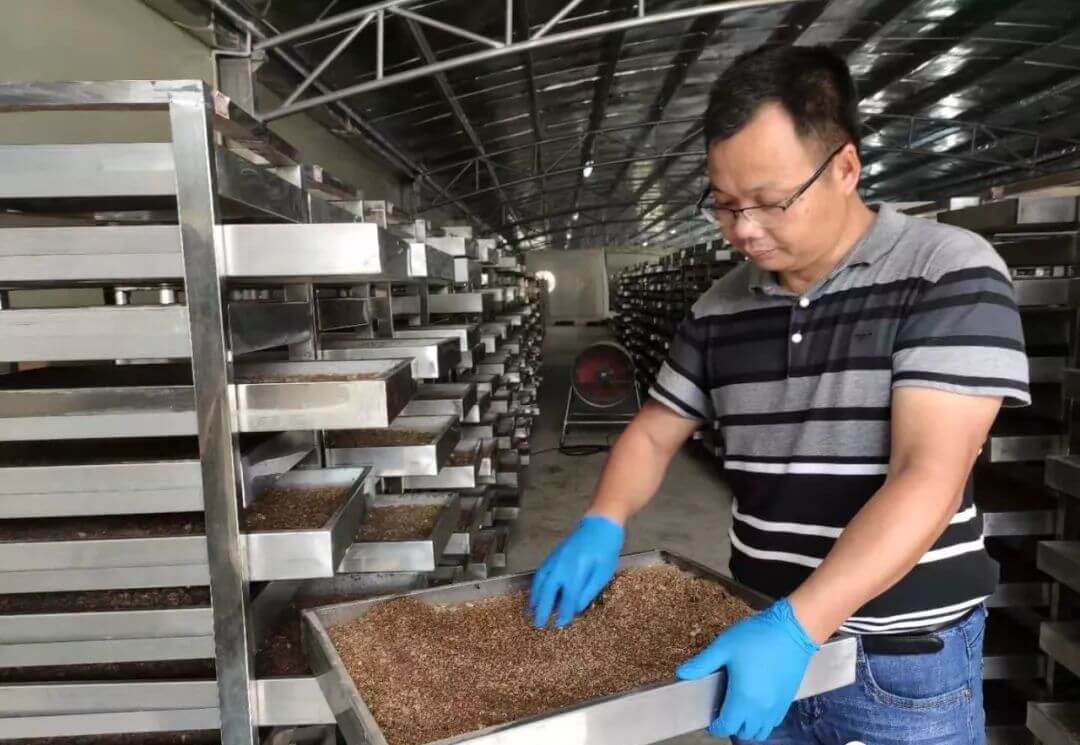 Solution
Black Soldier Fly household food kitchen waste disposal equipment solution
The system includes:
1) Egg hatching and breeding.
2) Automatic Growing.
3) Sorting and separation.
4) Larvae processing.
5) Environment control and deodorization.
It can be tailor-made according to the customer's situation, such as site, plant conditions, local resources, existing facilities and so on. This system has been adopted and proved in many projects.

PRODUCTS DETAIL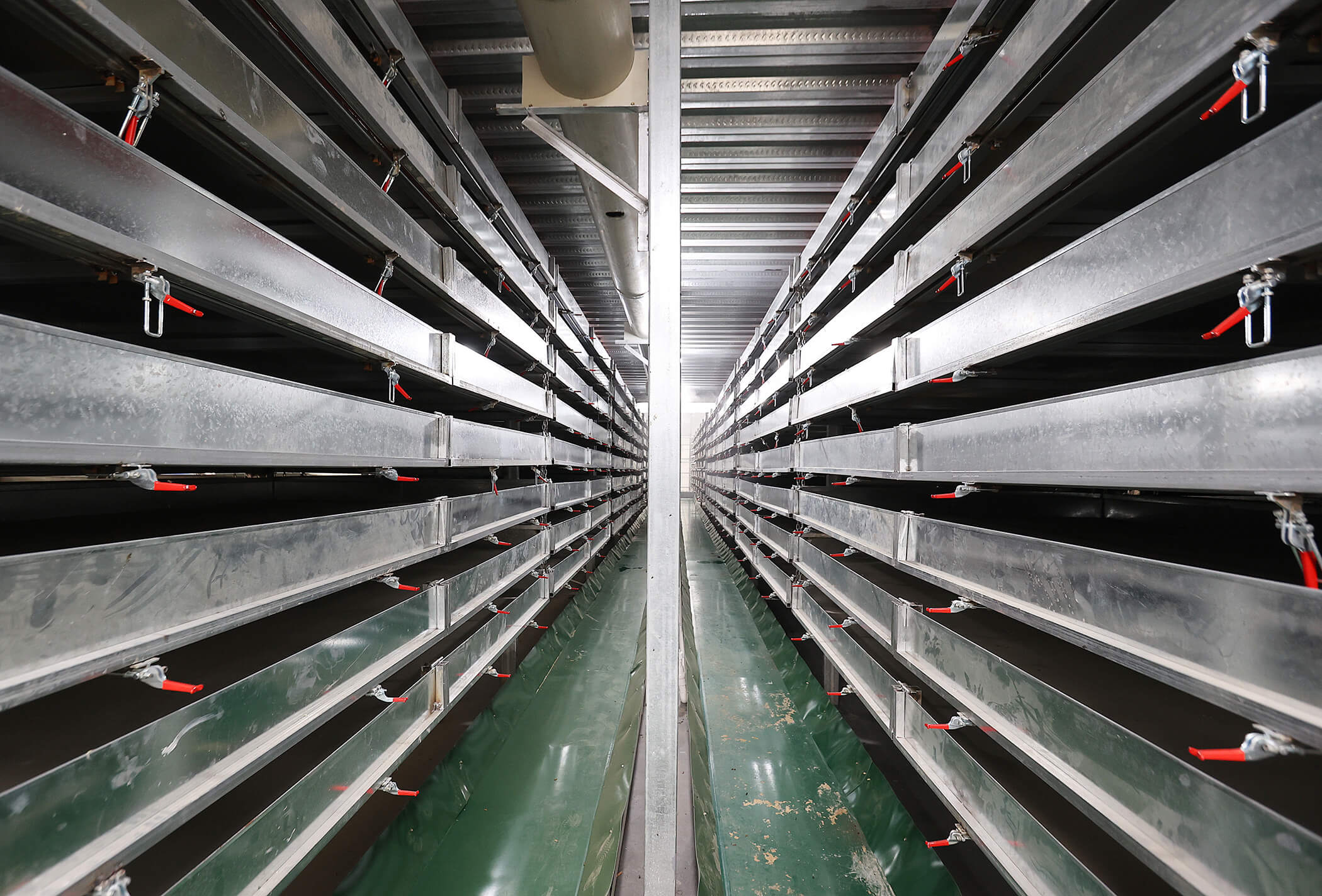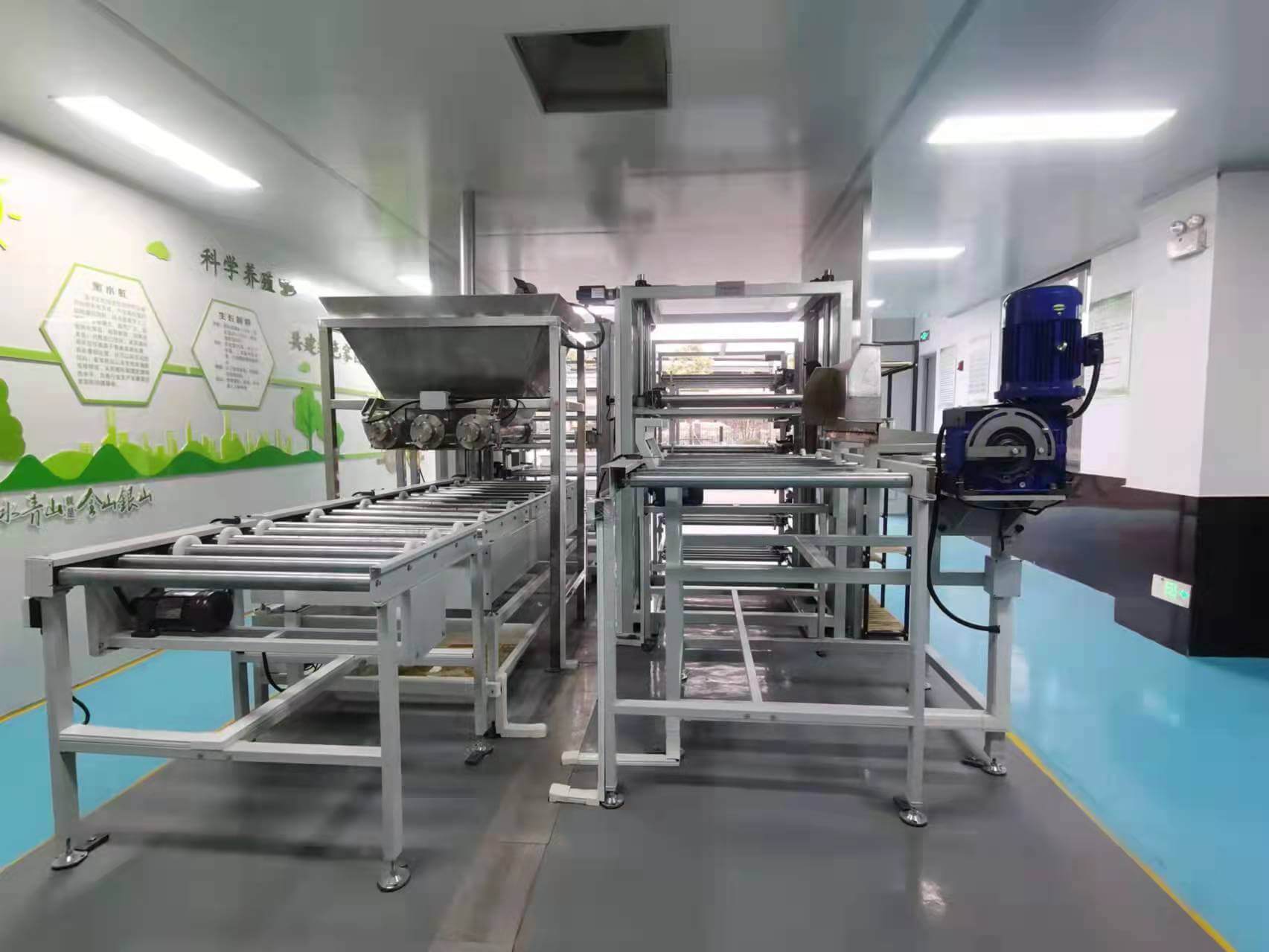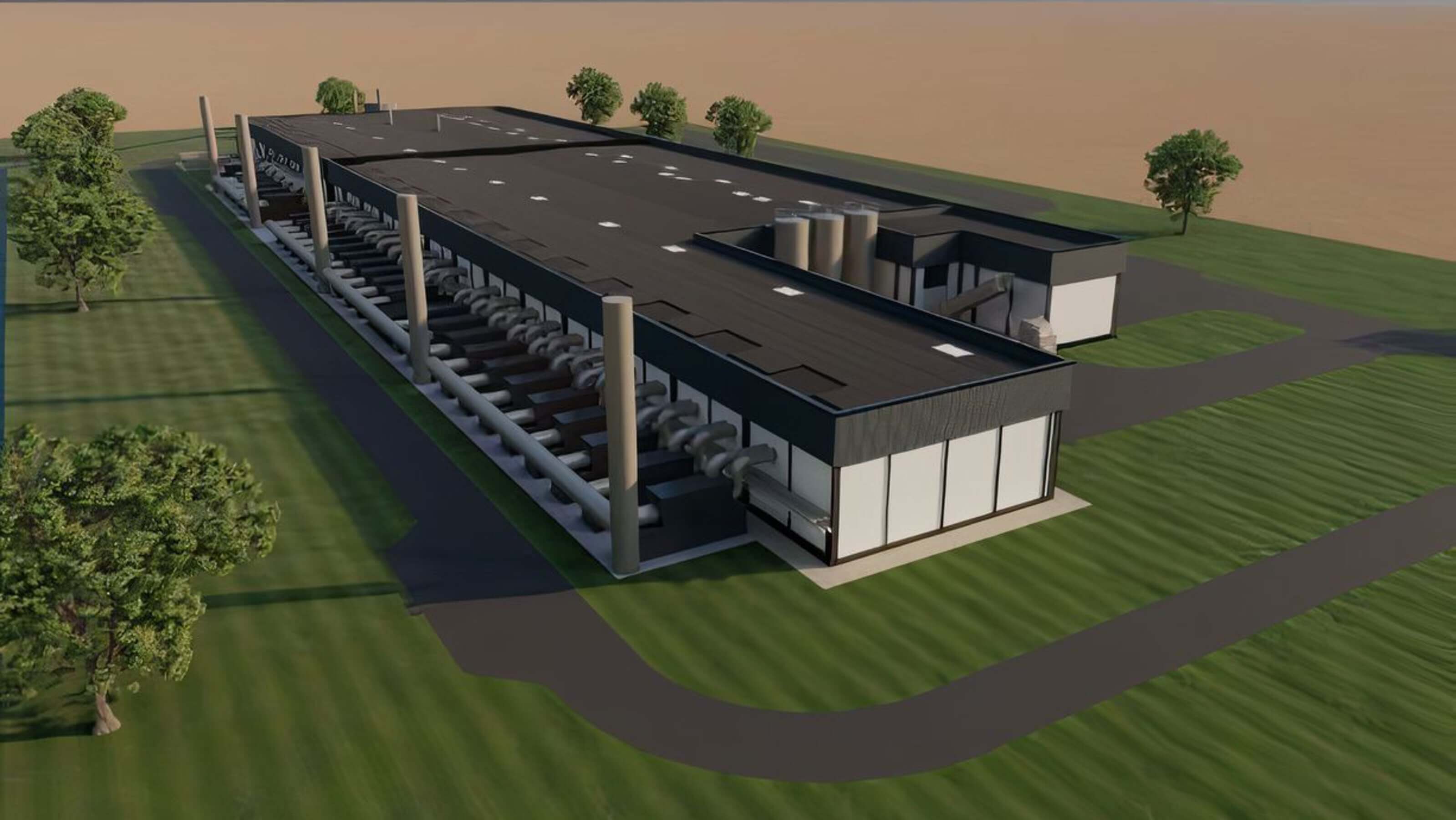 NC-BSF-TANK system has below characteristics
Negative pressure space is fully enclosed, man-machine separation. All the harsh working conditions do not require manual participation, the production environment is a negative air pressure environment, and the waste gas can be collected and treated efficiently.
Highly automation. The automatic growing process only needs to input parameters on the computer, and the equipment can run automatically. At present, the links that need to be operated manually are as below:
Hatching and breeding of eggs.
Reassembly and release of low-instar larvae.
Manual intervention under partial working conditions in the sorting process.
Packing, sealing, transportation and packing of products.
High efficiency and low failure rate. When the equipment is running, it can dispose of 100KG of organic solid residue (with a solid content of 25%) every 2 minutes, and produce about 20KG of fresh BSFL and about 18 KG of BSF frass that can be used as raw materials for organic fertilizer.
Process
The design boundary starts from the sorted kitchen waste which obtained 25% organic solid slag and 75% moisture, and after crushing and pulping. The whole process includes 5 parts: egg hatching, low instar larvae breeding(cultivation), automatic larvae growing, larvae sorting, processing, and deodorization.
Egg hatching &. breeding
Process time: 3 days from more than 85% of the eggs hatched. Standard: the BSF larvae grows to the size of 2~3mm, and the body is fresh and full. Feed: chicken / piglet feed, fermentation bacteria, vitamins, calcium propionate, fermented for 1-2 days. Materials: incubator tray, oil paper, spray can, brush, temperature and hygrometer. Note:
it is necessary to use the configured feed to improve the survival rate, and hatch &. breed in an environment with relatively constant temperature and humidity.
the small larvae are easy to escape, and the hatching tray should be treated with flanging to prevent escape.
each standard hatching tray can be used to hatch 50g of eggs. Daily treatment of 10 tons of kitchen waste is expected to require 1.1kg eggs, hatching and breeding time of 3 days, a total as: 1100÷50×3=66 sets of incubation trays In order to save space, multi-layer racks are used to place incubation trays. Each group of stents can place up to 16 sets of incubation trays, requiring a total of 6 sets of racks.
| | | | | |
| --- | --- | --- | --- | --- |
| Name | Specification | Power/Kw | Amount | Remark |
| 1. Constant temperature and humidity system | 10 ㎡ room space, air conditioner, humidifier, radiator, etc.. | 5 | 1 | Intelligent control |
| 2. Incubation trays | W84cm×L206cm×H15cm | 0 | 66 | 201 stainless steel |
| 3. Racks | 8 layers * 2 columns | 0 | 5 | Customization |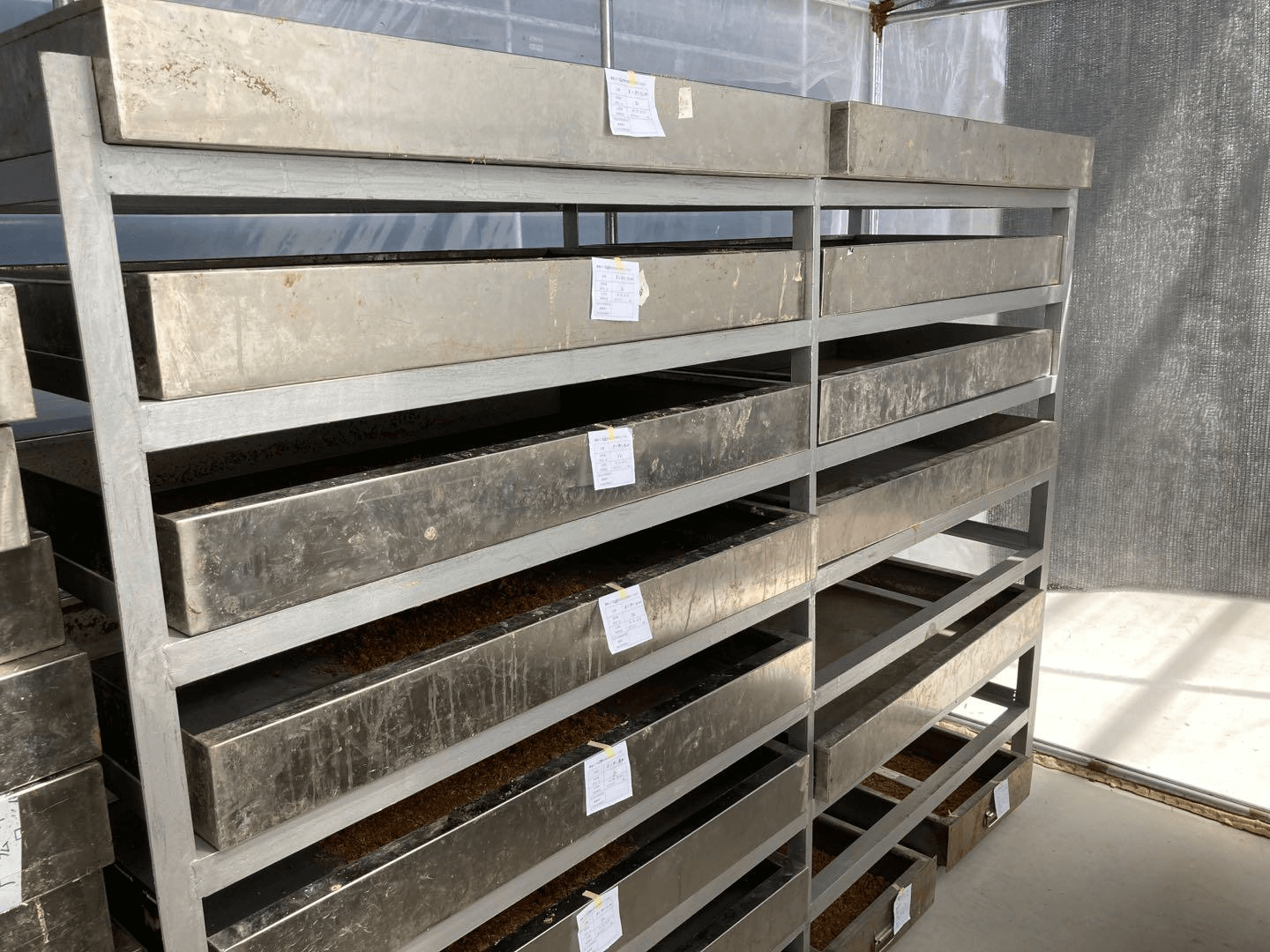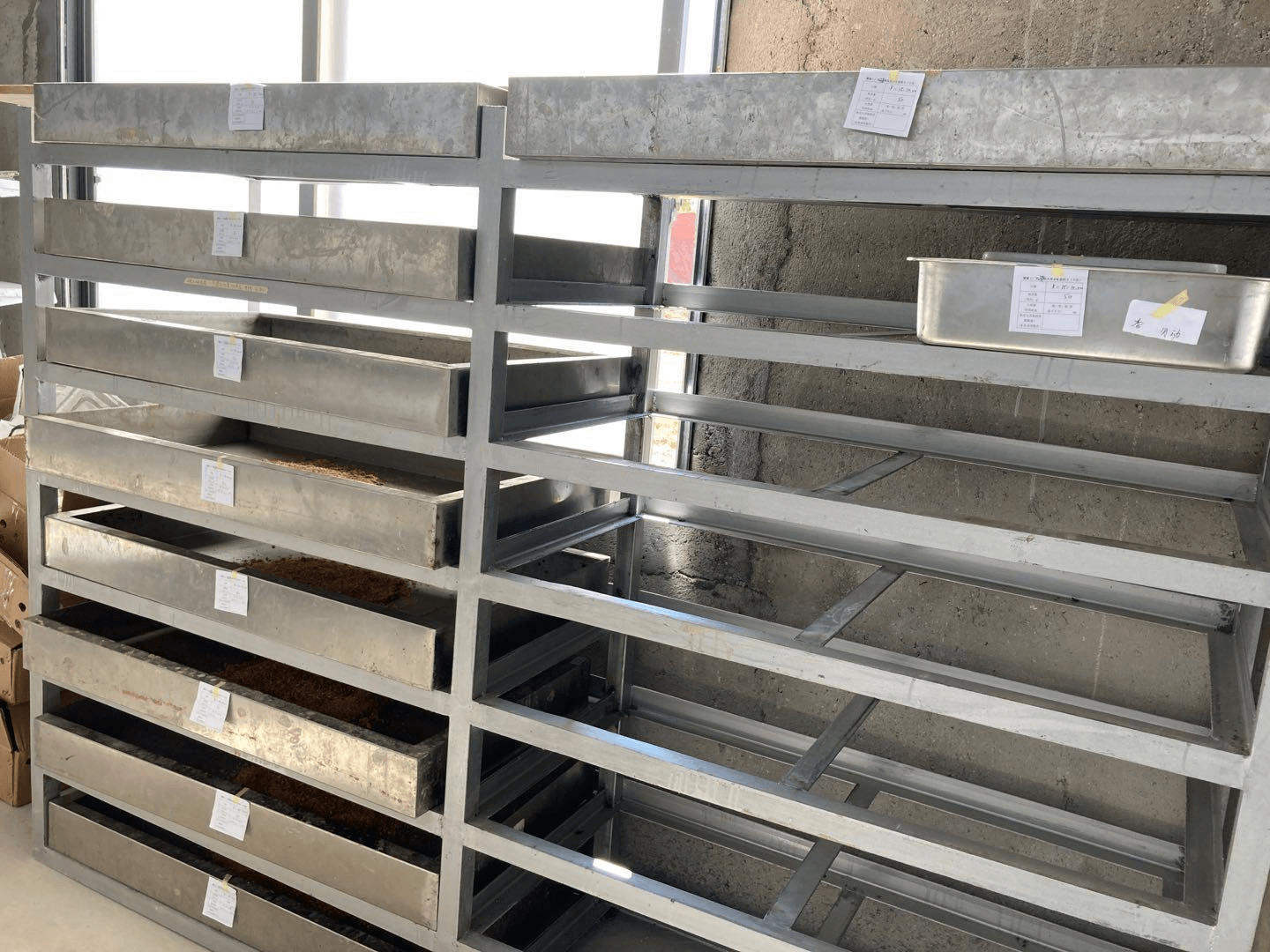 Automatic BSFL growing system
Process period: the low instar larvae were bred for 6 days, and the commercial larvae were grown for another 6 days.
The standard of low instar larvae: body length 8-10 mm, after removing frass and separatepacking, it will enter the process of commercial larvae cultivation phase.
The standard of commercial larvae: body length 2 cm, black larvae≤3%.
Production efficiency: an average of 2 minutes per tray, consumption of 80 – 100KG of solid residue, production of 15 -20KG fresh BSFL (depending on raw materials).
Area efficiency: the automatic growing system can realize 12 layers high density culture within the height of 5 meters. Culture area / land area > 5.
Automatic BSFL growing system includes growing line, lift & transfer mechanism, feeding mechanism, harvest mechanism, environment control system and PLC automatic control system.
Every feeding can cover 5 – 6 days culture period, and be able to realize multi-feeding for the supplement. A high degree of automation, after setting the parameters, the system will operate automatically.
System content as:
Lift & Transfer mechanism: a full set of mainframe with flipping function and 1 set of slave machine at the tail end.
Growing line: composed of columns and tracks, the main body of the tank has 12 layers, length 50 meters. The total length of the mechanism is 56meters, a height of 4.5 meters and a width of 2.5 meters.
Growing trays: a total of 601 trays (50 trays/layer * 12 layers + 1 moving tray), with a total culture area of 1200 ㎡ (600 trays * 2 ㎡).
Feed and larvae input mechanism: feed material temporary storage, conveying pump, electromagnetic flowmeter or weighing module.
Interlayer ventilation and cooling: applied industrial fan to blow intermittently between the layers to reduce the temperature.
Sealing cover, length 50 meters, height 5 meters, width 4 meters. Area occupied 58*4 = 232㎡.
Method 1: greenhouse film sealing, low cost, lack of beauty.
Method 2: sandwich rock wool board sealing, high cost, strong and neat.
Cooperation with the customer
Company Profile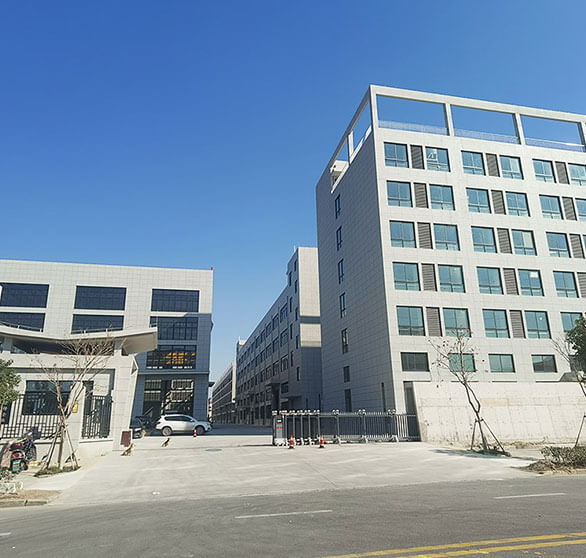 JNBAN vacuum belt dryers have been included in the" Eleventh Five-Year National Science and Technology Support Program, Zhejiang Science and Technology Department Major Science and Technology Public Relations Project and Zhejiang Province" Major Science and Technology Special (Priority Theme) Social Development Project. There are 4 papers and 6 patent applications accepted, including 4 invention patents, 2 special authorizations, and 10 practical patents. They won the third prize of Zhejiang Science and Technology Progress Award and the first set of products in Zhejiang Province.……
Pre-sale and after-sale service commitment
Technical service plan within warranty period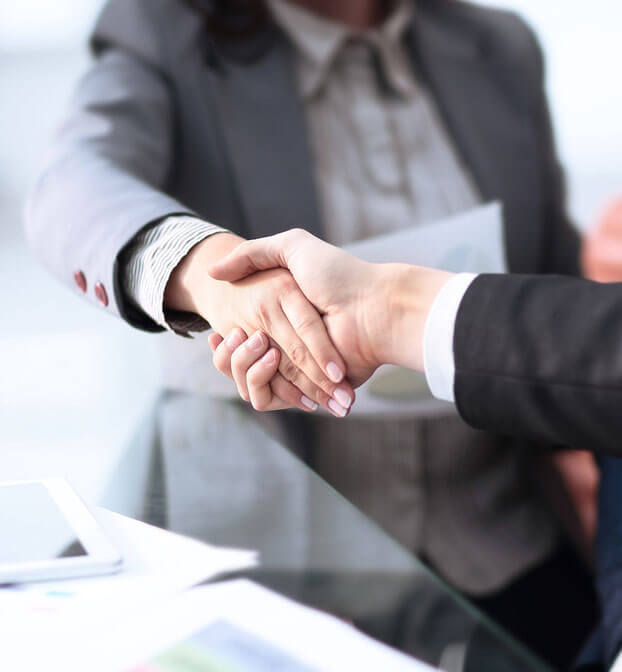 Wenzhou Jinbang Light Industry Machinery Co., Ltd. is a high-tech enterprise integrating R & D, manufacturing and sales. Professional in the production and sales of pharmaceutical, bioengineering machinery and equipment professional enterprises. The company mainly specializes in consulting, scheme design and manufacturing, budget, on-site installation and after-sale maintenance of traditional Chinese medicine extraction equipment, concentration equipment, separation and purification equipment, alcohol recovery equipment and drying equipment.……
Contact us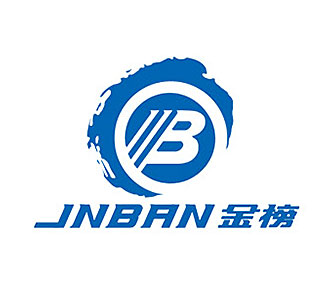 Wenzhou Jinbang Light Ind Machinery Co., Ltd

E-mail: info@jnbantech.com

P.C: 325025

Address: No. 420 Binhai 23rd Road, Binhai Park, Economic & Technological Development Zone, Wenzhou, Zhejiang, China
More products