PRODUCTS DETAIL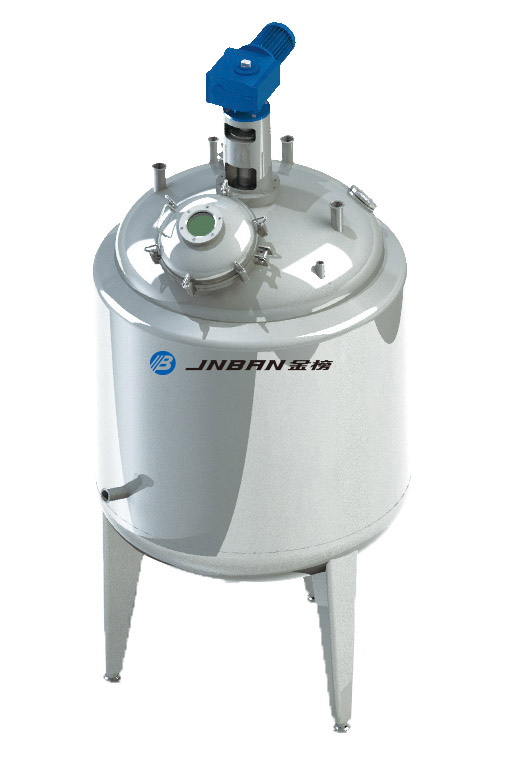 Product features and description
1.Stainless steel mixing tank with agitator has heating and heat preservation functions, and is manufactured, tested and accepted according to the Technical Conditions of Steel Welding Containers.
2.Stainless steel mixing vessels volume is available in various sizes from 100L to 20000L, and can be designed and processed according to the actual needs of customers.
3.The sealing of the mixing shaft adopts imported sanitary mechanical seal. The reducer adopts the world famous brand Germany Flander or SEW, and the stirring speed is 36-53/rpm. Variable frequency governor control
4.The interface adopts the international standard ISO standard quick-loading chuck type, and the inner tank adopts imported 316L or 304.
5.Stainless steel blending tank has a liquid level gauge (contactless ultrasonic, static pressure transmission or glass tube type), air breathing apparatus, sterilization steam port, thermometer (digital display or dial type), CIP universal can washer, lamp Hole mirror, several inlet and outlet, manhole.
Mixing Tank Characteristic
● Internal shape: vertical drum shape (inner cylinder is in contact with liquid medicine)
● Inner material:316L(imported from Japan)
● Outer material: 304 mirror board or matt plate
● Material: Pearl cotton (high temperature resistance, anti-aging)
● Working pressure: atmospheric pressure
● Sterilization pressure:0.15-0.3MPa
● Inner finish: 0.28-0.45μm
● Heating coil:304
● Outer temperature: ≤ 10℃
● Working temperature:60℃ -100℃
● Sterilization temperature:121℃ -132℃
Blending vessel Configuration
2. Fold the microporous membrane air filter (filter out ≥ 45μm bacteria);
3. Leakproof device (up to 100%);
4. Level gauge interface (static pressure sensing, ultrasonic, glass tube positioning for selection);
5. Thermometer interface (temperature sensor);
6. Exhaust and safety valve interface (with respirator with sterile filtration);
7. Steam sterilization filtration sterile vent;
8. Clean the ball (360 degree rotation under low pressure);
9. Import and export of liquid medicine (fast-loading type);
Mixing tank function
The mixing tank can stir, mix, blend the material and so on. It is composed of a stirrer, a support, a transmission device, a shaft sealing device, etc., and a heating device or a cooling device can also be configured according to the process requirements. Materials such as mixing tank, mixing tank lid, agitator, shaft seal, etc. can be made of carbon steel or stainless steel according to different process requirements. A transmission device (motor or reducer) is arranged on the upper part of the mixing tank cover, and the agitator in the stirring tank is driven by the transmission shaft. Due to different user production process requirements, the agitator can be configured in various forms such as slurry, anchor,
frame, and spiral.
The tank is made of SUS304 or 316L stainless steel. The tank is equipped with automatic spray cleaning head and microporous filter 0.2μm respirator to ensure the production process meets GMP quality standards. The system configuration can be designed according to the user's production requirements. This series of containers is suitable for the pharmaceutical industry and meet the GMP standards.
Product description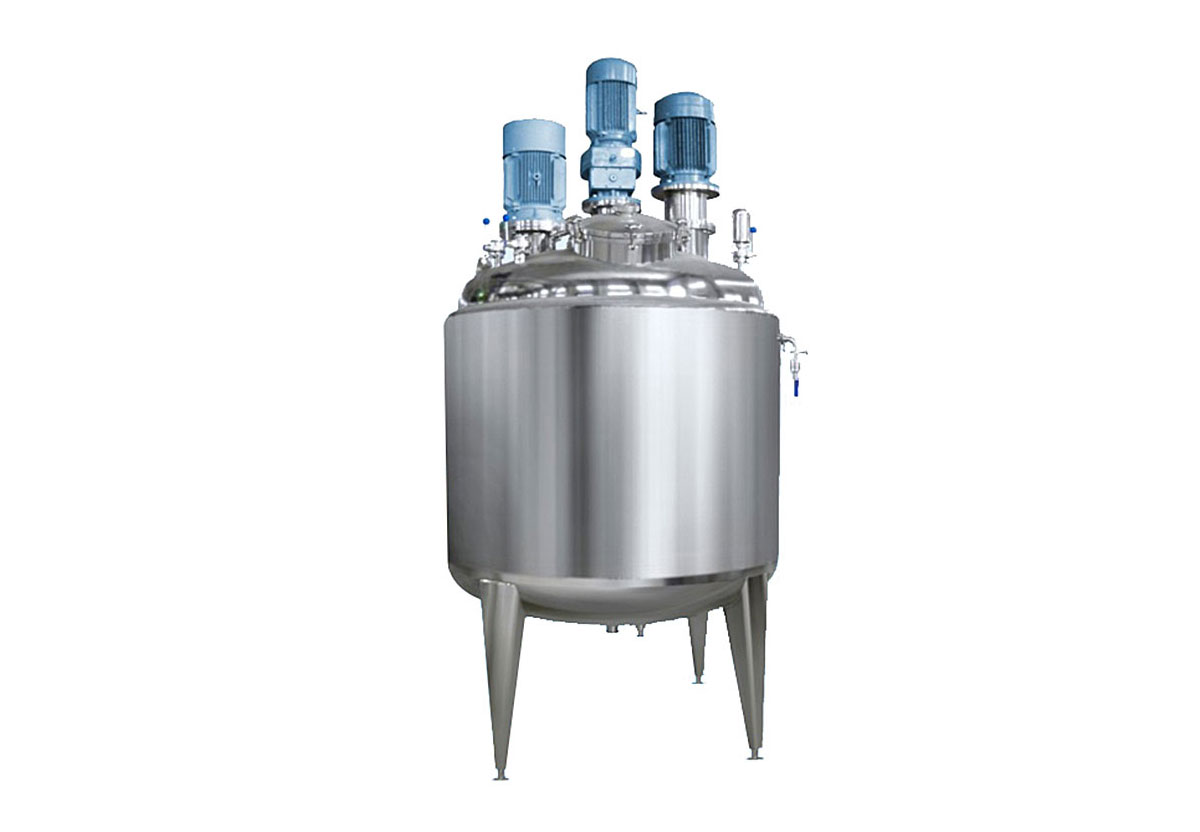 Mixing tanks come in various sizes and can be used in a wide range of industries.Our mixing tanks start as small as 50 liter but can go up to 10.000 liter or even bigger.
For processes such as mixing, blending, keeping it homogenious, an efficient agitator or a combination of agitators is necessary. Let us know what you would like to achieve, and we will collaborate with you in order to arrive at the most efficient solution.
Component details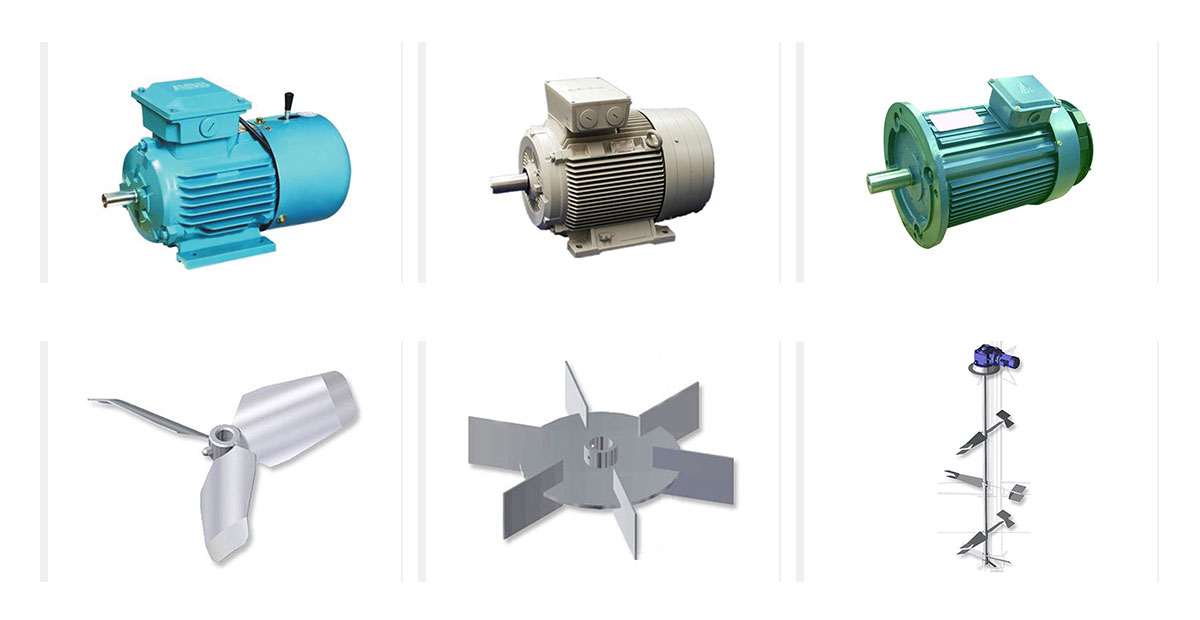 customized to your specifications and manufactured according to the following criteria:
Size and geometry
Material viscosity
Pressure requirements
100% sanitary interior welds
Ease of cleaning (CIP) for fast and efficient cleaning operations
Mix impeller size and quantity
Mix with a set speed or variable speed according to your requirements
Mix with impeller motion in one direction or agitating according to your requirements



Agitator
The mixing tank comes with an efficient agitator and a built-in flow breaker.

Wheels
The mixing tank comes equipped with wheels , making it easy to get in position.

Folding Cover
The lid of the mixing tank folds outwards making filling very easy.
Structural drawing display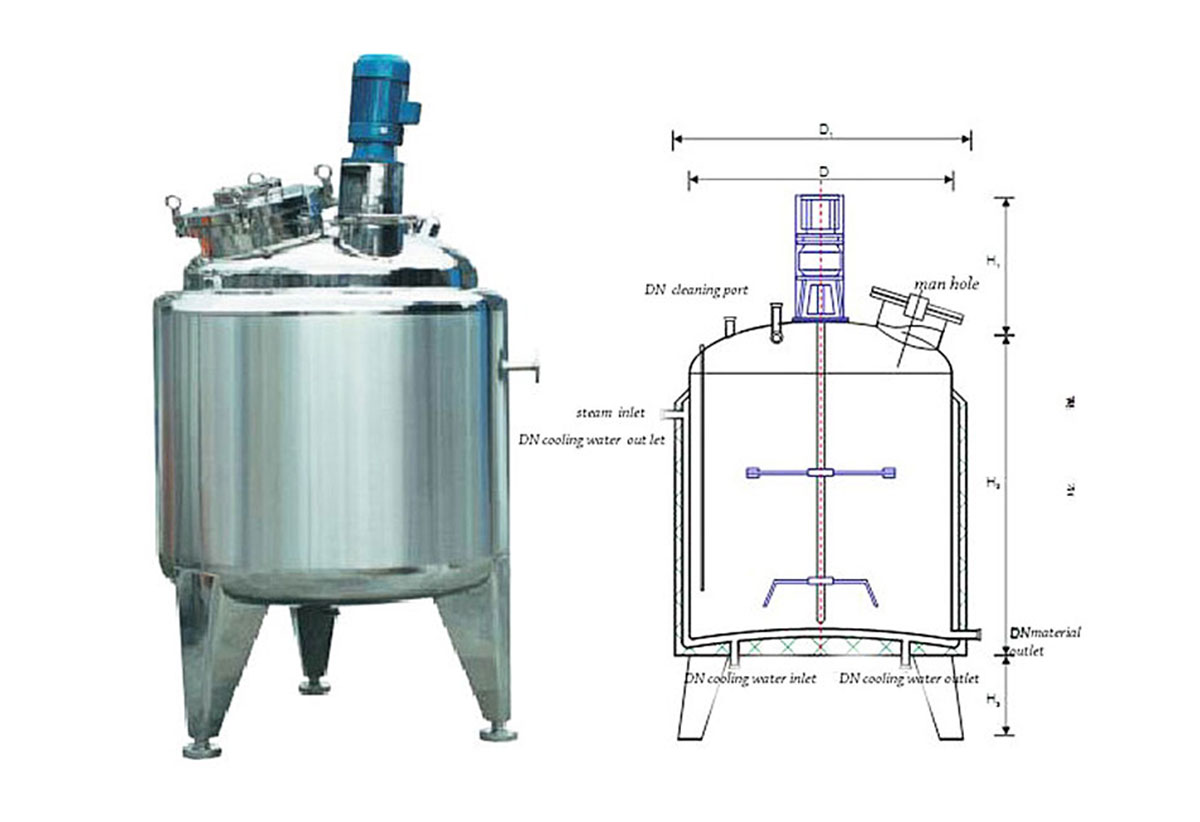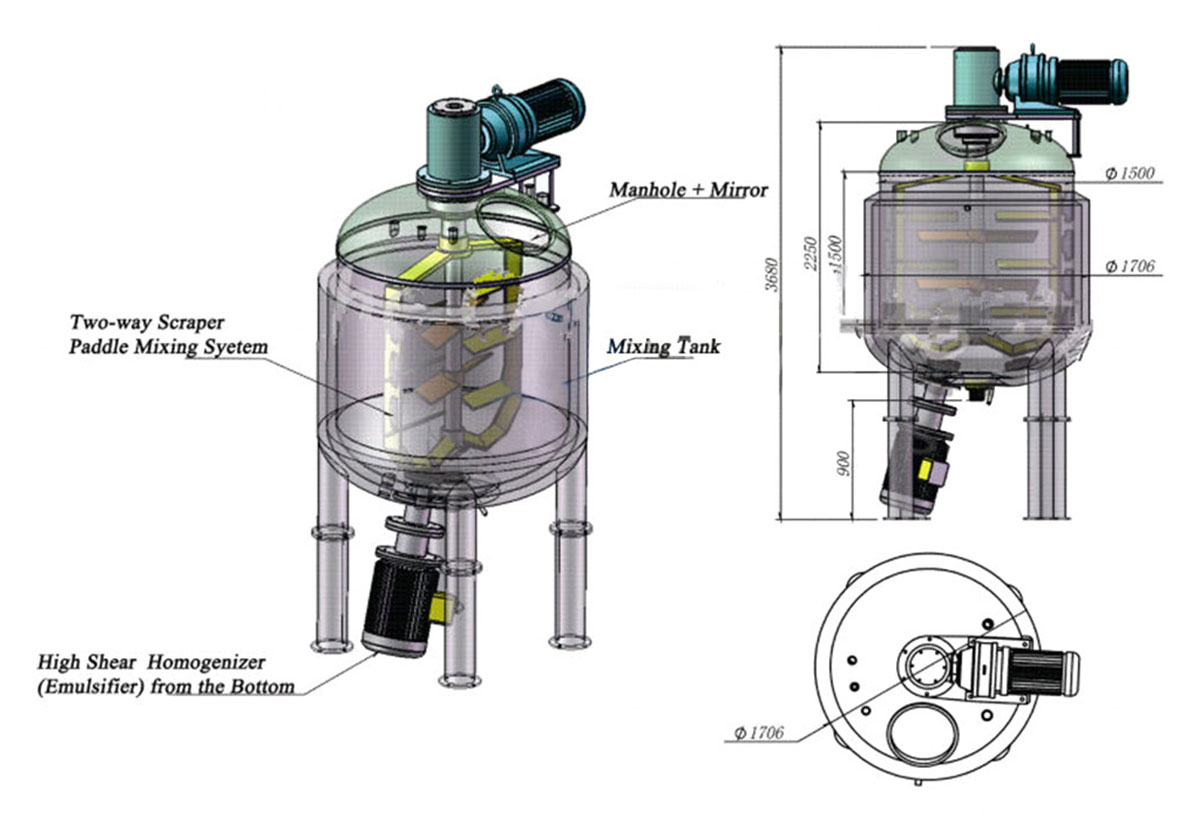 Manufacturing liquid products often requires mixing ingredients and then storing them. Whether your company is in the cosmetic, pharmaceutical, chemical, or food and beverage industry, there are various regulations you must meet. Our mixing and storage vessels are designed with your industry in mind. To best serve our customers, we've designed top-notch mixing tanks, storage tanks, flange-top mixing tanks, and cosmetic mixing tanks. Each of these tanks feature high-quality materials for optimal durability, reliability, and safety.
Product parameters
| | | | | | | | | | |
| --- | --- | --- | --- | --- | --- | --- | --- | --- | --- |
| Model | Tank size (mm) | Frame power (kw) | Frame speed (rpm) | Disperserp ower (kw) | Disperser Speed (rpm) | Screw power (kw) | Screw speed (rpm) | Emulsifier power (kw) | Emulsfier speed (rpm) |
| SJBF-500 | φ950*800 | 3-5.5 | 0-75 | 11-18.5 | 0-1450 | 4-7.5 | 0-200 | 7.5-11 | 0-1500 |
| SJBF-1000 | φ1200*1000 | 5.5-11 | 0-58 | 18.5-30 | 0-1450 | 7.5-15 | 0-180 | 15-22 | 0-1500 |
| SJBF-1500 | φ1350*1100 | 7.5-15 | 0-58 | 22-37 | 0-1450 | 7.5-15 | 0-180 | 22-30 | 0-1500 |
| SJBF-2000 | φ1450*1300 | 15-18.5 | 0-45 | 30-45 | 0-1450 | 11-18.5 | 0-160 | 30-37 | 0-1500 |
| SJBF-3000 | φ1600*1600 | 18.5-22 | 0-35 | 45-55 | 0-1450 | 15-22 | 0-140 | 37-45 | 0-1500 |
| SJBF-5000 | φ1900*1900 | 18.5-22 | 0-25 | 55-90 | 0-950 | 22-30 | 0-120 | 37-45 | 0-1500 |
| SJBF-6000 | φ1900*1900 | 22-30 | 0-24 | 75-110 | 0-950 | 30-37 | 0-120 | | |
| SJBF-8000 | φ1900*1900 | 22-30 | 0-17 | 110-160 | 0-950 | 37-45 | 0-100 | | |
| SJBF-10000 | φ2400*2400 | 30-37 | 0-17 | 160 | 0-950 | 37-45 | 0-80 | | |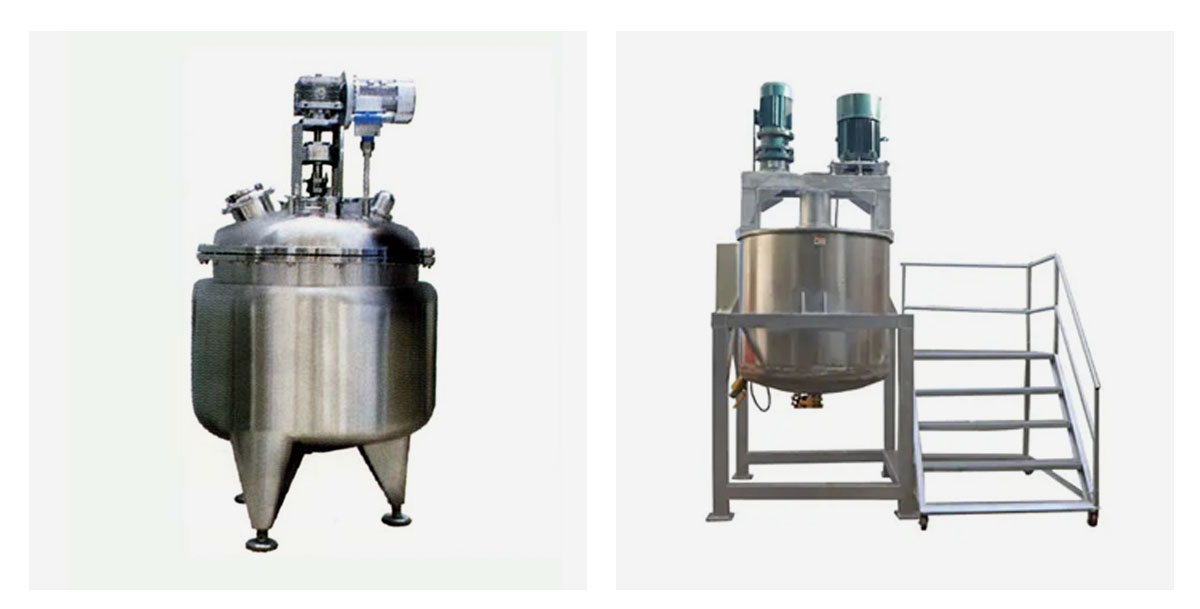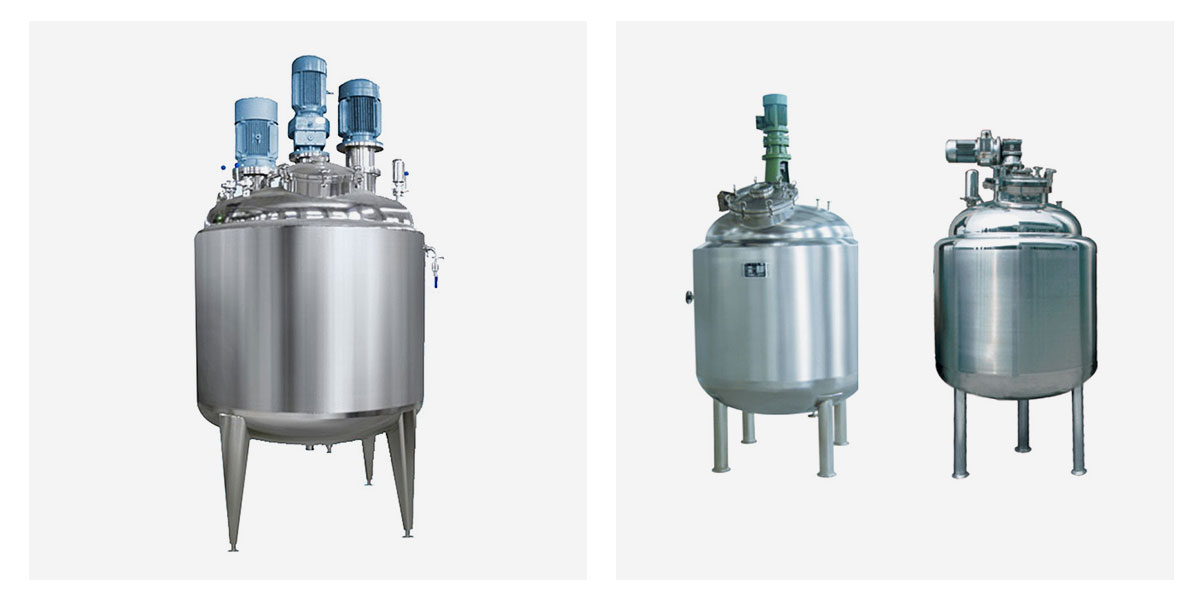 Cooperation with the customer
Company Profile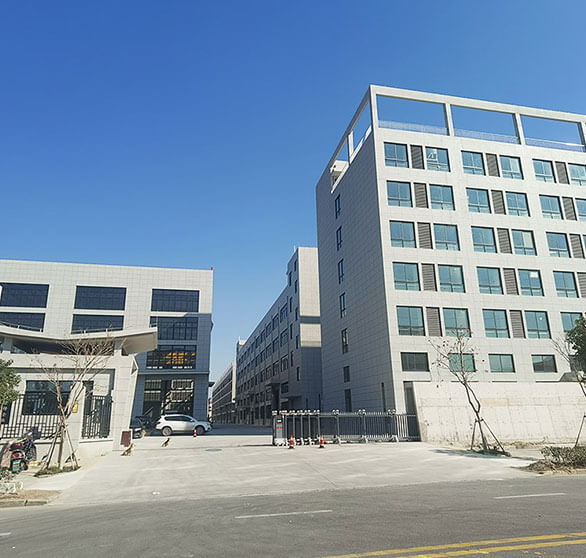 JNBAN vacuum belt dryers have been included in the" Eleventh Five-Year National Science and Technology Support Program, Zhejiang Science and Technology Department Major Science and Technology Public Relations Project and Zhejiang Province" Major Science and Technology Special (Priority Theme) Social Development Project. There are 4 papers and 6 patent applications accepted, including 4 invention patents, 2 special authorizations, and 10 practical patents. They won the third prize of Zhejiang Science and Technology Progress Award and the first set of products in Zhejiang Province.……
Pre-sale and after-sale service commitment
Technical service plan within warranty period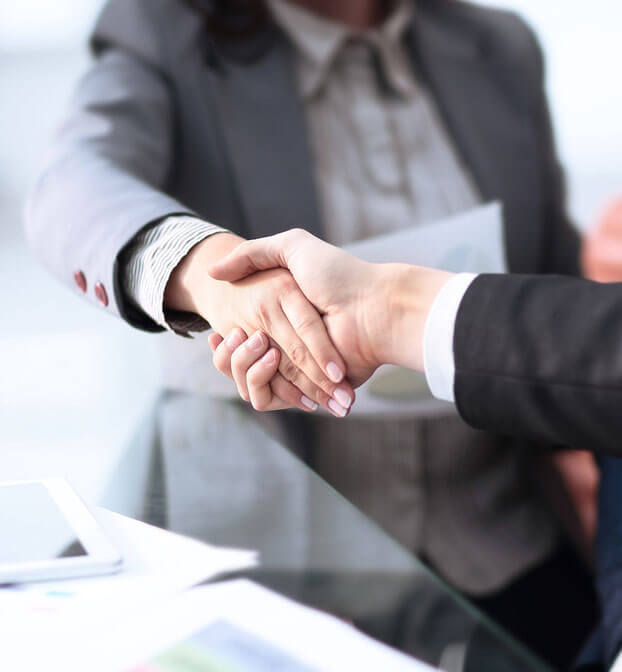 Wenzhou Jinbang Light Industry Machinery Co., Ltd. is a high-tech enterprise integrating R & D, manufacturing and sales. Professional in the production and sales of pharmaceutical, bioengineering machinery and equipment professional enterprises. The company mainly specializes in consulting, scheme design and manufacturing, budget, on-site installation and after-sale maintenance of traditional Chinese medicine extraction equipment, concentration equipment, separation and purification equipment, alcohol recovery equipment and drying equipment.……
Contact us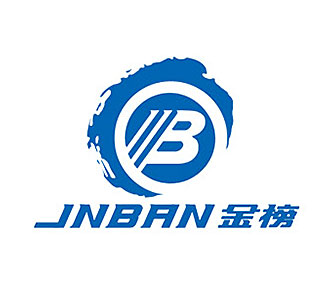 Wenzhou Jinbang Light Ind Machinery Co., Ltd

E-mail: info@jnbantech.com

P.C: 325025

Address: No. 420 Binhai 23rd Road, Binhai Park, Economic & Technological Development Zone, Wenzhou, Zhejiang, China
More products